Have you ever felt a constant nagging pain or stiffness in your joints? Or have you ever asked yourself why your body is not moving the way it used to? Admit it or not sometimes we just tolerate the discomfort or pain that we felt and would not mind what is going on until we found out that the minor aches already sneak up the best of us, and it already lead to a more serious injury. Thankfully, we do have therapeutic exercise programs to the rescue. Exercise is defined as activity that is performed or practised to develop a specific function or skill and maintain physical fitness. While Therapeutic exercises are precise exercises meant for correcting specific problems or ailments. It refers to a wide range of physical activities that focuses on restoring and maintaining strength, endurance, flexibility, stability and balance.
The main objective of therapeutic exercise is to help the body reduce pain and inflammation. Once this is achieved, the exercise program focuses on regaining range of motion and rebuilding muscle strength and endurance. This program will lead to prevent and decrease impairment and disability, to improve and restore physical function and to improve overall health status, fitness and sense of well-being.
Exercises that may be included in a therapeutic program include:
Strengthening exercises – Any activity that makes your muscles work harder than usual. This increases your muscles' strength, size and power. The activities involve using your body weight or working against a resistance. This type of exercise is usually performed with heavy resistance and fewer repetitions. Basic muscle strength is required for joint control during your simple everyday tasks. These tasks can include static activities with generally low intensity (such as sitting or standing posture) or dynamic activities that are more likely to be higher intensity (such as walking, running, reaching, lifting or throwing, weight, speed, power) and shorter duration but this can vary. Some of the benefits of strength exercises include: Increased lean muscle mass (or prevention of its loss), increased bone density and reduced risk of osteoporosis, increased metabolism to help with weight loss or weight maintenance, increased muscle strength to make everyday activities easier and lowered risk of injury (by allowing the muscles to better support the joints).
Endurance exercises – Activities that engage large muscle groups over a longer period. Also called aerobic exercise, endurance exercise includes activities that increase your breathing and heart rate such as walking, jogging, swimming, dancing, climbing and biking. Endurance activity keeps your heart, lungs and circulatory system healthy, aids in weight loss, improves mood and sleep quality, prevents age-related decline, improves your overall fitness which leads to longer life.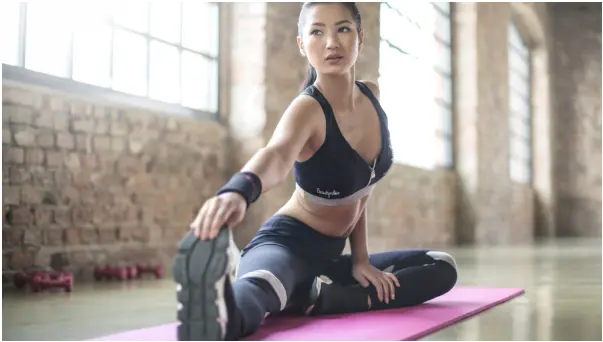 Flexibility exercises – Are activities achieved through stretching and movement. Flexibility training involves low-intensity exercises that increase the total range of motion of a joint or group of joints. Flexibility and balance exercises (which work stability muscles) can decrease the chance for muscle imbalances, which can throw off your body movement and open the door to falls and injuries. Stretching your body to become suppler and more flexible offers many physical benefits. Stretching your muscles and joints also leads to greater range of motion, improved balance, improve posture and improve physical performance. A flexibility training program can be made up of different types of stretching: Dynamic stretching, Ballistic stretching, Static Active stretching, Static Passive stretching, Isometric stretching and PNF stretching.
Balance and coordination exercises – Activities that focus on maintaining an individual's center of gravity. It is the ability to execute smooth, accurate, controlled motor responses (optimal interaction of muscle function). Coordination is the ability to select the right muscle at the right time with proper intensity to achieve proper action. Having good dynamic balance can help improve your coordination and ability to react to sudden changes of direction, both of which can help reduce the risk of an accidental fall. Increasing the strength of the core muscles can help improve your balance and coordination, while also improving your appearance. Coordination exercises involve internal and external processing that trains proprioception, balance and timing. Common coordination exercises include: Eye and hand coordination, Hand and foot coordination, Eye and foot coordination, Reaction to Cue (coordinating movement based on a cue in a timely manner), or any combination mentioned.
You can be active even if you have a chronic condition, like heart disease, diabetes, or arthritis. Almost anyone, at any age, can exercise safely and get meaningful benefits. However, staying safe while you exercise is always important, whether you're just starting a new activity or haven't been active for a long time. It is always best to consult with your doctor before you try any of these exercises or any new fitness program. Your Physical Therapist is an expert who can guide you to determine the type of exercises that you need to regain the level of activity that you were accustomed to prior to your injury. They will be the one who will also prescribe exercises that meet your short term as well as long term goals.
Tribeca Physical Therapy is officially reopened for in-person physical therapy sessions and continues to offer Telehealth PT or Virtual PT. Call us at 2124068080 or message us and book your first session free.